Keep working (out) from home without the pain.
Keep working (out) from home without the pain.
Keep working (out) from home without the pain.
Pain is complicated. Learn how we can help.
Avazzia Professional Products provide digital bio-electric feedback, up to 56 modes for advanced protocols and relief that patients deserve.
Improve the appearance of fine lines and wrinkles naturally and eliminate painful injections with ezzi-lift and ezzi-lift Photodynamic.

Ezzi Spa offers both facial and body treatments in a desktop portable unit that will leave your spa customers feeling rejuvenated, improve appearance and tighten up those loose spots.

Avazzia operates in Canada, Europe and several Asian countries. See the latest in relevant foreign research and products available internationally.
Best Vet Pro offers similar biological effects and pain relief for treating animals in pain. The units offer accessories that provide Veterinarians another tool to improve the health of common animals.
Over the Counter Pain Relief Kits That Really Work
Stand Alone Unit Uses Internal Electrodes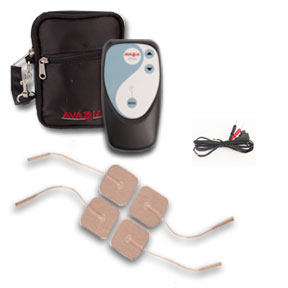 Pouch Carrying Kit with Gel Pads
Y-electrode and Gel Pads Kit
After spending eight hours a day using a computer mouse, I began suffering from severe numbness in my right hand and arm. I was introduced to the Avazzia device and began seeing improvement almost immediately.
Within six months I was totally symptom-free and able to avoid surgery (which I was told was my other option). Since then I have used the device to relieve the chronic neck and shoulder pain that has seriously impacted the quality of life for my entire adult life. Nothing I've tried before has been as effective.
Dianne Stultz
Plano, TX
View Our Corporate Brochure
"I can tell a big difference with my scars. After 10 minutes, my face feels softer. Better."
Shilo A. Harris.
Staff Sergeant Retired
Speaker, Author
Pro Sport 3 and Ultra
The Professional & Advanced User
Device with tissue bio-electric feedback.
The feedback makes the difference.