International Customers
High-tech health solutions available worldwide
Customers around the world are using Avazzia's microcurrent technology to help them lead healthy lives. All of Avazzia's devices are available internationally along with the most popular BEST-RSI, PRO-SPORT and ezzi-lift devices. In all cases, the Avazzia devices are engineered, manufactured and serviced at Avazzia's headquarters in Dallas, Texas, USA.
Sold in Europe, Canada, and Asia.
Med-Sport
The Med-Sport provides soothing massage therapy designed for physically active bodies to relieve achy, sore or strained muscles and to improve body and muscle efficiency. Using the Med-Sport after exercise may shorten recovery time of strained or injured muscles.
Med-Sport offers four popular microcurrent modes: Relax, Massage, Stimulate and Acute.
Avazzia Blue™ Device by Avazzia
The Avazzia Blue device is a cost-effective option for pain relief without drugs or surgery. 
Avazzia Blue device super easy to use with two popular preset microcurrent modes:
Blue Relax for pain relief
Blue Stimulation for reducing inflammation and getting back to life. 
Avazzia Blue modes meet the needs of most SCENAR device users.  The Blue Relax is just a little stronger than the default mode in SCENAR models, and the Blue Stimulate mode has a stronger output, and is more comprehensive with a broader range of output variations than FM VAR or SW VAR modes. Try it. You'll like it.  Find a practitioner in Northern Europe; click here
ezzi-lift and ezzi-lift with Photodynamics microcurrent facial systems by Avazzia
Get a Microcurrent Facelift at Home
Gain skin that's smoother, firmer looking
Reduce the appearance of fine lines and wrinkles
Benefit from an overall feeling of relaxation
See results immediately-and for as long as seven to 10 days after application
No downtime, redness or puffiness
What is Photodynamics?
Ezzi-lift is a cosmetic facial device with a built-in metal plate to apply microcurrent for reducing the appearance of fine lines and wrinkles.
Ezzi-lift with Photodynamics offers those same microcurrent benefits, and also has LED lights in green, yellow, orange and red built in next to the treatment plates.
International purchases may be made at the Avazzia online store or with a local distributor.
Purchasing locally is often easier with shorter shipping times than orders placed on this site. Purchases made from this Avazzia.com USA website require prepayment and other requirements.  
All purchases must be prepaid.
International customers MUST respond to the follow-up email from Avazzia to the purchaser's email address of record from the order placement asking for a phone number in the destination country.
Purchases going to international addresses will not be shipped until a local (destination) phone number is received.
Shipments go via FedEx International rate. Customer will be charged for shipping.
For a prompt response to questions about international purchases and shipments, complete the Contact Us form.
Classifications and Clearances
US FDA cleared as a microcurrent TENS device for transcutaneous electrical nerve stimulation, management of chronic pain, intractable pain, post-surgical pain and traumatic pain with prescription, and pain from sore and aching muscles in the shoulder, waist, back, neck, upper extremities (arm), and lower extremities (leg) due to strain from exercise or normal household work activities over-the-counter without prescription.
Avazzia medical devices and accessories are also European CE certified, Health Canada licensed, Ministry of Health Malaysia registered with the Malaysia Device Authority, and Singapore HSA registered.
Warning: Not intended for individuals with pacemaker or other implanted electronic device or who may be pregnant.
MKT-180401-32A
Our Most Popular Sellers Around the Globe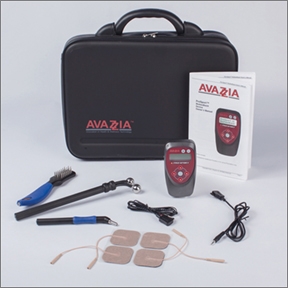 Pro-Sport III-kit (Rx required for US shipment)
BEST-RSI device kit (Rx required for US shipment)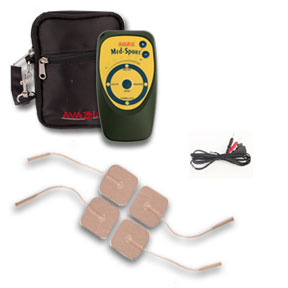 Med-Sport Device Kit (Pouch, Pads and More)
Ezzi-Lift with Photodynamics Kit
Take Advantage of Free Shipping
Free ground shipping in the US for online orders over $100.